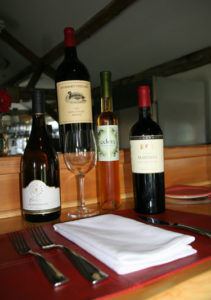 Sadly, due to COVID restrictions, we have had to cancel our wine dinner series until future notice. If you enjoyed these dinners, and are interested in a similar experience with a smaller group (6-8), please consider booking our Tasting Room. Call us at 603-353-4405 to discuss the details.
At Ariana's, we offer themed wine dinners throughout the year. Each wine dinner is a 5-course meal with 5 featured wines; each course paired with a featured wine. We work with various wine merchants, planning the theme and selecting the wines. A representative from the wine merchant will be at the dinner to discuss the chosen wines and enhance the experience. Chef Martin will also be on hand to discuss the pairings from a culinary perspective.
Dinner begins at 6 pm with guests arriving from 5:45 pm. Passed Tapas are served as guests arrive. The meal is $75 per person, tax and gratuity not included.
2020 Wine Dinners
Reservations are available beginning the first of the month preceding the event. To the extent that it is possible, we will post additional information regarding theme and wine representatives as they become available.
January (Reservations accepted now)
• Tuesday, January 28
• Wednesday, January 29
March (Reservations accepted beginning February 1st)
• Tuesday, March 10
• Wednesday, March 11
May (Reservations accepted beginning April 1st)
• Monday, May 11
• Tuesday, May 12
July (Reservations accepted beginning June 1st)
• Monday, July 20
• Tuesday, July 21
August (Reservations accepted beginning July 1st)
• Monday, August 17
• Tuesday, August 18
November (Reservations accepted beginning October 1st)
• Tuesday, November 10
• Wednesday, November 11