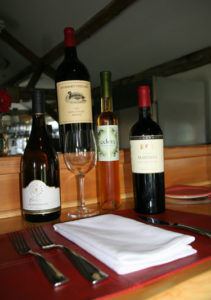 At Ariana's, we offer themed wine dinners throughout the year. Each wine dinner is a 5-course meal with 5 featured wines; each course paired with a featured wine. We work with various wine merchants, planning the theme and selecting the wines. A representative from the wine merchant will be at the dinner to discuss the chosen wines and enhance the experience. Chef Martin will also be on hand to discuss the pairings from a culinary perspective.
These events are held on Monday evenings, when the restaurant is otherwise closed. Dinner begins at 6 pm with guests arriving from 5:45 pm. Passed Tapas are served as guests arrive.
2019 Wine Dinners
Reservations are available beginning the first of the month preceding the event:
Monday, February 18th and Monday, February 25th
Reservations available beginning January 1st.
Monday, April 8th and Monday, April 15th
Reservations available beginning March 1st.
Monday, May 13th and Monday, May 20th
Reservations available beginning April 1st.
Monday, July 15th and Monday, July 22nd
Reservations available beginning June 1st.
Monday, August 12th and Monday, August 19th
Reservations available beginning July 1st.
Monday, October 21st and Monday, October 28th
Reservations available beginning September 1st.
At the request of our guests, below is a listing of the wines featured at each wine dinner with the NH Liquor Store code:
April 16, 2019: Spanish Wines
with Javier Bayona of Familia Chávarri & Ted Fondulas of New England Uncorked
Familia Chávarri Lagar de Indra 2017 Albariño, Riax Baixas – NH# 30805
Familia Chávarri Larchago 2016 Rioja Blanco, Rioja Alevesa – NH# 30801
Familia Chávarri Maitea 2014 Tempranillo, Ribera del Duero – NH# 32073
Familia Chávarri Larchago 2017 Tempranillo, Rioja – NH# 31990
Savage Oaks Vineyard & Winery Nor'Easter, Union, ME – NH# 22946
April 8, 2019: New England Wines
with Ted Fondulas of New England Uncorked
Shelburne Vineyard 2017 Cayuga White, Shelburne, VT – NH# 21694
Shelburne Vineyard 2016 Lakeview White, Shelburne, VT – NH# 21696
Shelburne Vineyard 2016 Vt Grown Petite Pearl, Shelburne, VT – NH# 32885
Iapetus 2017 Vt Grown McCabe's Brook Subduction,Shelburne, VT – NH# 32190
Savage Oakes Vineyard & Winery Blueberry π, Union, ME – NH# 22945
February 2019: Worldly Wines from our West Coast
Zocker 2015 Paragon Vineyard Grüner Veltliner, Edna Valley, CA – NH# 30809
Delille Cellars 2015 Estate Chaleur Blanc, Columbia Valley, WA- NH# 23109
Mark Herold 2013 'Flux' Proprietary Red, Napa Valley, CA – NH# 30626
Buena Vista 2014 Viniculture Society Sonoma County Merlot, Sonoma, CA – NH# 31253
Alexander Valley Vineyards 2013 Alexander School Reserve Primivito, Alexander Valley, CA – NH# 28507
December 2018: Wines from Vina Tabali
with Charles Saunders from Biagio Cru and Tonya Wilder from Bay State Wines
Parxet Cuvee 21 2015 Brut Cava, Catalonia, Spain – NH# 28702
Tabali Pedregoso 2017 Sauvignon Blanc, Valle de Limari, Chile – NH# 32071
Tabali Pedregoso 2015 Chardonnay, Valle de Limari, Chile – NH#32070
Tabali Vetas Blancas 2014 Reserva Especial Pinot Noir, Valle de Limari, Chile – NH# 32068
Tabali Pedregoso 2015 Gran Reserva Cabernet Sauvignon, Valle de Maipo, Chile – NH# 32069
Tabali 2015 Late Harvest Muscat Gran Reserva, Valle de Maipo, Chile – NH# 32040
October 2018: Wines from Oak Ridge Winery
with Chris Riendeau and Zack Gage from Southern Glazer's Wine and Spirits
Maggio Family Vineyards 2016 Maggio Chardonnay, Lodi, CA – #18158
Old Soul Vineyards 2016 Old Soul Chardonnay, Lodi, CA – #29958
Maggio Family Vineyards 2016 Maggio Petite Sirah, Lodi, CA – #18159
Old Zin Vines 2016 Old Vine Zinfandel, Lodi, CA – #44394
Old Soul Vineyards 2016 Old Soul Cabernet Sauvignon, Lodi, CA -NH #29960
August 2018: Wines from Wente Vineyards and Murrieta's Well Estate Vineyard
with Chris Riendeau of Southern Glazer's Wine and Spirits of New England
Wente Vineyards 'Louis Mel' 2016 Sauvignon Blanc, Livermore Valley, CA – NH Code: 12270
Murrieta's Well 'The Whip' 2016 White Blend, Livermore Valley, CA – NH Code: 16555
Murrieta's Well 'The Spur' 2015 Ted Blend, Livermore Valley, CA – NH Code: 12235
Wente Vineyards 'Southern Hills' 2015 Cabernet Sauvignon, Livermore Valley, CA – NH Code: 19453
Wente Vineyards 'Riverbank' 2016 Reisling, Arroyo Seco, Monterey, CA – NH Code: 44084
June 2018: American Wines with Derek Rush of Perfecta Wine Company
Duck Pond 2016 Pinot Gris, Willamette Valley, Oregon – NH Code: 36991
Peter Paul Wines "Live Free or Die" 2016 Chardonnay, Sonoma Coast, California – NH Code: 29791
Primarus 2014 Pinot Noir, Oregon – NH Code: 26315
Morgan 2016 Cotes du Crows, Santa Lucia, California – NH Code: 40786
Casasmith 'VINA' 2017 Rose, California – NH Code: 23899
April 2018: A Tale of Two Grapes with Nancy
Hay Maker 2016 Sauvignon Blanc, Marlborough, New Zealand – NH Code: 23239
Ferrari-Carano 2016 Fumé Blanc, Sonoma County, CA – NH Code: 26945
Seaside Cellars 2014 Pinot Noir, Marlborough, New Zealand – NH Code: 28265
Bridlewood Estate Winery 2015 Pinot Noir, Monterey County, CA – NH Code: 14625
Sweet Baby Vineyards "Callum's Red", Hampstead, NH – NH Code: 30606
February 2018: Wines from Argentina with Derek Rush from Perfecta Wine Co.
La Puerta 2016 Torrontes, Famatina Valley – NH Code: 43143
Alamos 2016 Chardonnay, Mendoza – NH Code: 33148
Familia Schroeder 'Saurus Select' 2011 Pinot Noir, Patagonia – NH Code: 14368
Durigutti 2014 Cabernet Franc, Mendoza – NH Code: 24163
Familia Barberis 2015 Malbec, Mendoza – NH Code: 45314